Please read our Sales Policy before purchasing one of our goats.

Pricing & Deposits: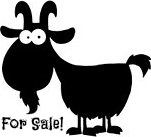 Myotonic "Fainting" Goats: $300 & up.

We require a $100 non-refundable deposit per goat to hold your goat(s) until weaned or until an agreed pick-up date. Unless we reach a prior agreement on a new pick-up date, any goat not picked up within 1 week of the agreed pick-up date will be placed back up for sale and your deposit will be forfeited. We do not accept deposits on kids that are not born yet. If you would like us to hold a goat for you and are mailing a deposit, we will wait 7 days to receive the deposit. If not received within 7 days & we do not hear back from you, the goat will be placed back up for sale. Held goats are still property of Boot's Fainting Farm until they have been picked up & paid in full.
All Myotonic "Fainting" kids sold are 100% pure bred & will be registered with the Myotonic Goat Registry. Registration certificate (pedigree) & transfer paperwork will be provided to the buyer at the time of pick-up. It will be the buyer's responsibility to transfer ownership of the goat under their name. The buyer must be a member of the Myotonic Goat Registry in order to register the goat under their name.
We accept cash & money orders only. No personal checks will be accepted. Our goats are sold as pets or breeders only. We do not sell for meat. 
Terms Of Sale:
FOR SALE - This goat is available, please inquire!
SALE PENDING - Deposit is on it's way, but feel free to inquire anyway just in case the sale falls through. 
ON HOLD - Deposit has been received and the goat is waiting to be picked up.
SOLD - Full payment has been received and the goat has been picked up.
KEEPING - This goat will be staying here to be added to our breeding program.
Myotonic "Fainting" Goats - For Sale
Please visit our "New Kids" page for a list of goats for sale!